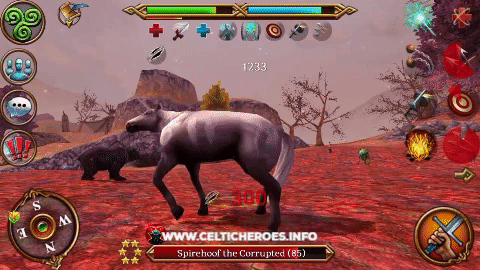 Spirehoof the Corrupted and Crumblehorn are two bosses in the Warden Armour quest line in Stonevale. This guide will give you all the info on this boss.
Info
Quests:

Spirehoof is the fourth boss in the Evil in Stonevale quest chain.
Spirehoof is the fourth boss in the Warden Armour Quest line.

Drops: Oak, Elm, and Crown disc fragments for the Warden quest armour.
Spirehoof can spawn different placeholders instead of the main boss. These are:

Spirehoof the Corrupted 85/6* (drops 3 disc fragments)
Crumblehorn 6* (drops 1 disc Fragment)
Lancehorn 4*
3*

Location: Walks from right of West entrance to the Bloodgrove in Stonevale, to the middle South wall of the Bloodgrove.
Respawn: 30-45 minutes.
Relevant Resources:
Map
Skills
Spirehoof the Corrupted performs these attacks:
Wild Embrace - Heal over time (like Natures Embrace)
Hasty Attack - Medium physical attack (like Quick Strike)
Death Charge - Damage over time attack (like Rend)
Impale - Pierce damage skill
Strategy
You need to DPS hard to get past the Wild Embrace skill, which Spirehoof almost always has active.
You also need to buff up your armour and have heals because Spirehoof deals a lot of DPS.
Notes
Spirehoof the Corrupted used to look a lot different in previous versions of Celtic Heroes. Below is a video documenting his changes