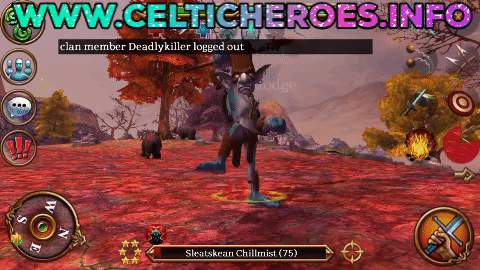 Sleetskean Chillmist and Sleetskean Crystalmist are two bosses in the Warden Armour quest line in Stonevale. This guide will give you all the info on this boss.
Info
Quests:

Chillmist is the second boss in the Evil in Stonevale quest chain.
Chillmist is the second boss in the Warden Armour Quest line.

Drops: Moon, Sun, and Oak disc fragments for the Warden quest armour
Chillmist can spawn different placeholders instead of the main boss. These are:

Sleatskean Chillmist 6* (drops 3 disc fragments)
Sleatskean Crystalmist 6* (drops 1 disc Fragment)
Sleatskean Icemist Level 69/4*
Sleatskean Frostmist 3*

Location: Right of West entrance to the Bloodgrove in Stonevale.
Respawn: 30-45 minutes.
Relevant Resources:
Map
Skills
Sleatskean Chillmist performs these attacks:
Frost Arrow - Moderate ranged cold damage
Frost Lance - High ranged cold damage
Magic Barrier - Barrier that negates damage for 60 seconds, and draws damage from energy and not health.
Strategy
Chillmist puts up his Magic Barrier at about 90% health. This means that the boss will take no damage for 60 econds. There is no way to remove it, so you need to tank this boss for 60 seconds and wait for it to expire. Use Taunt to hold aggro. Once the barrier is gone, nuke him until he's dead.
Boost your Warding and Fortitude as well as Cold Resists to help mitigate damage
Notes
Sleatskean Chillmist used to be a large Blue Wisp in previous versions of Celtic Heroes. Below is a video documenting his changes