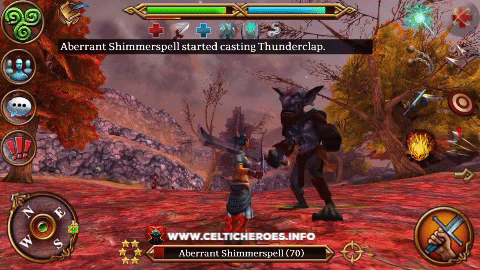 Aberant Starspell and Aberant Shimmerspell are two bosses in the Warden Armour quest line in Stonevale. This guide will give you all the info on this boss.
Info
Quests:

Starspell is the third boss in the Evil in Stonevale quest chain.
Starspell is the third boss in the Warden Armour Quest line.

Drops: Sun, Oak, and Elm disc fragments for the Warden quest armour
Starspell can spawn different placeholders instead of the main boss. These are:

Aberant Starspell - 6* (drops 3 disc fragments)
Aberant Shimmerspell - 6* (drops 1 disc Fragment)
Aberant Moonspell - 4*
Aberant Glowspell - Level 72/3*

Location: Middle of the Bloodgrove in Stonevale.
Respawn: 30-45 minutes.
Relevant Resources:
Map
Skills
Aberant Starspell performs these attacks:
Thunderclap - Single target magic damage attack
Buffeting Gale - reduces your attack, causing you to miss.
Strategy
Keep aggro and nuke the guy
Watch out for accidentally pulling Spearhorn who walks nearby, if he's up.
Notes
Aberant Starspell used to be a large White Wisp in previous versions of Celtic Heroes. Below is a video documenting his changes.